Iphone 6s spyware app
Monitor Media Files iPhone Tracker allows you to access all media files remotely. Hear all audio and voice memos. Even if they delete media files, you will still have a copy on your web account. If the target user makes or receives calls, then these calls will be automatically recorded and uploaded to your web account. You can listen or download at any time. It shows the coordinates of the target phone. Location linked the map inside your web account. You can display a path of travel between certain time periods. You can easily track the phone's location from your web account.
Use the full power of mobile tracking software
Surroundings sounds will be recorded and records will be upload to your web account. It does not affect performance or battery drain. It is hidden from the launcher, including the home screen, and hidden from the task manager. Click here to see the full features, detailed comparison list with competitors. Uploading logs are totally hidden and can be done by any available connection method — Wi-fi, or Network Data.
Control Panel is easy to use and it provides all the captured data in a single report.
5 best free Anti-Spyware Apps for your iPhone in
You can browse categorically in captured data. You can mark as important, print, or export download. You can see the target device current GPS location remotely or historically movements on a map. After installation spy software you simply log in to your web account and you can then use the specific control center. You can set up the software remotely on your web account.
Enable or disable any feature, temporary stop spying, or you can uninstall spy software remotely. There are calls from unusual or withheld numbers? Flag data for convenient analysis.
iPhone Spyware Demonstration
Search for reports or create downloadable reports. If for any reason you are unhappy with our product within 10 days of purchase, we will refund your money in full. Most frequent questions and answers about pricing. Yes, it is a one-time charge for the license length you choose. Automatic subscription is optional during checkout. If you did not enable Auto Renewal option during checkout, you need to place a manual renewal order.
Accounts renewed within 3 days from the expiration date, does not need re-installation. Yes, If for any reason you are unhappy with our product within 10 days of purchase, we will refund your money in full. All captured data is uploaded to your secure account to view.
It helps you to keep your loved ones, your business, and your personal information safe. Our software provides the best monitoring solution for employers, parents, and even personal users who understand the importance of protecting their businesses, personal information and loved ones. Installing iPhone monitoring app is easy and takes only a few minutes. You need to download the monitoring software to the mobile phone that you want to monitor. You will need to jailbreak your iPhone to get the most out of all of the advanced features. This is required for all iOS devices.
You need to have the target device in your hand. Ensure you have an Internet connection. You will receive a welcome email which contains your download URL, your web account login credentials and user manual. We provide the user manual. The user manual is step by step and each step has the screenshot. Once installed, it will run in the background without any evidence.
The data is uploaded to your online web account.
mobile spy get passwords;
Iphone 6s spyware 6 1 4 - spyware hunter 4 serial.
Best and simple iphone 6s spy app.
How to use iPhone 6S/iPhone 6S Plus Spy Software?.
spy phone online;
Cell Phone Monitoring Software.
spy cam for windows phone;
You can view usage and activity reports from your web account. Simply log in to your Web Control Panel and start spying text messages, call logs, GPS location and any other activities taking place on the target iPhone. The information captured by our iOS spy app is encrypted and sent to a secure web portal. Use a web browser to browse data, carry out searches, set alerts, generate reports and much more. We design, develop and support all our products since Want to learn more?
How to spy on iPhone 6S or iPhone 6S Plus?
Click here to see the full comparison chart. You are required to notify device owner that device is being monitored. The most powerful and Hidden iPhone Tracker. A ton of advanced monitoring technology in a single spy app. View All Features. Are you ready to face the truth? Available for immediate download. Purchase an iPhone from us. A fully configured iPhone will be shipped to your door within days. Silent Sync Feature.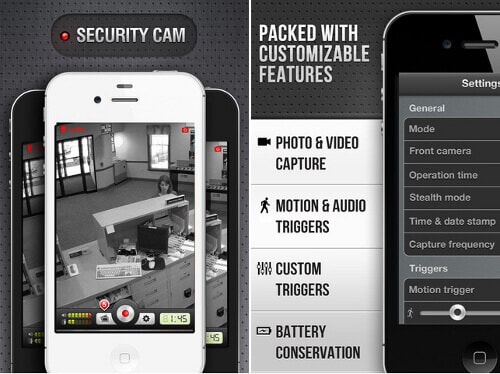 Change Application Settings Remotely. USD Buy Now. Show Features. Money Back Guarantee If for any reason you are unhappy with our product within 10 days of purchase, we will refund your money in full. Is this a single payment? How can I see prices in my currency?
Click the subscription length you wish to buy. On the next page, you will see all currencies. For iPhones and then any other iOS devices , it has an added feature at no extra cost — it will be easy to use this app without it being jailbroken since you have a valid AppleID. While this is very good news, they come in limited features since you can only track call logs, SMS, Contacts, browser history, Events and Notes.
However, you can use coupon to reduce your spending. Phone Tracker Phone Tracker is marketed to families with busy schedules and employers which track employees during work hours. It combines mapping and GPS technology to help you to track your phone plus another for free on Android and iPhone follow 10 users which has a cent upgrade. The app doesn't must be open to work, also it can locate someone else's movement in the previous twenty four hours and within 30 feet 10 meters. It can be developed to log locations every two to one hour.